2020 Gift Guide For The Active Babe In Your Life (Under $150)
The holidays and gift-giving season will be here before we know it, but there's no reason to stress about it! Seriously - chill out, girlfriend - if you survived 2020 so far, then you can survive the holidays. Trust. 
But, if you are worrying about what to get your favorite lady, then take our hand and let us walk you through gifts that will help get you on her good list without breaking your bank - a classic win-win situation. 
We put together a list of gifts under $150 that will definitely be a hit for your favorite gal (or gals). Sure, wine always makes a great gift, but this year, let's surprise her with something unique - just like her.
From hair ties that actually stay, and cozy high waisted leggings, to affordable in-ear headphones and special pH wash made just for her lady parts - our list has you covered from head to toe and *seriously* everywhere in between.
Take a deep breath, and let's dive in to make this a stress-free holiday season.
Our Pick: Invisibobble Strong Grip Hair Tie (Starting at $4.99)
Hair ties that *actually* stay in your hair, without damaging those beautiful locks? Yes please! This is for the lady who is always on the move and doesn't have time to keep fixing her pony. These come in a variety of colors that will complement her badass style.
Our pick: Larq Self Cleaning Water Bottle
Cute  + good for the environment + your health? Sign us up. Larq is the worlds first self-cleaning water bottle and is perfect for the lady who is trying to stay hydrated + cut back on plastic bottle use (psst...we all should be focused on this!) It uses a UV-C light to clean out all the 'bad stuff' while keeping the 'good stuff' - a win-win. This is the perfect travel bottle for all your OTG hydration needs.
Our pick: Vejo Portable Smoothie Blender ($130.00)
We all know that one babe who starts every day with a nutrient packed smoothie, right? Well, if someone immediately comes to mind - then this is the gift for her. This cute 'lil travel sized smoothie blender & nutrient packed pods make the perfect gift for the health nut who is always mixing up blended concoctions. Save her time, money & energy with this innovative gift.
Our pick: Boldbody High Waisted Leggings & Sports Bras (Legging $88.00, Sports Bra $64.00)
15% off your first order with code: FIRST15
Leggings are a girls best friend. These buttery soft, ultra high waisted and super flattering leggings are perfect for the babe who's looking for style, comfort and functionality. They are great for working out, or throwing on a sweater to meet the girls for brunch + have the option to pair with a matching sports top. These cute and comfy sets are offered in a variety of colors and prints to complement any woman's personal style.
Our pick: JLab JBuds ($49.00)
Calling all music lovers! Know someone who isn't the biggest fan of Apple air pods for whatever reason? (raises hand). Well these affordable ear pods pack a killer sound, AND stay in your ears during all types of workouts. Spin, running, HIIT tested & approved.  Plus, these ear buds are great for the WFH babe who needs to tune in & crank out some work without outside distractions.
Our pick: Bose Soundlink Micro ($99.95)
Nothing better than an at-home dance party, am I right?! This mini speaker packs a punch and is also great for traveling (if that's your cup of tea right now). Plus, this is a great option for at-home gyms and bringing some beats to the shower or bath.
Our pick: My Lotus Accupressure Mat (Starting at $89.00)
Have someone on your list who loves the spa and self-care? Bring the spa home to her with this Acupressure mat which will leave her feeling revitalized, refreshed and ready to take on the world. Benefits include pain reduction, increased circulation and relaxation. Honestly, we don't blame you if you want to buy this for yourself…
Our pick: Bombas Tie Dye Wool Sock ($78 for a 4 pack gift box)
We love a good tie dye moment. If you haven't jumped on the tie dye bandwagon yet in 2020, it's only a matter of time. Grab a set of these wool tie-dye socks that will keep her feet warm and her 'fit stylin' all winter long. And yes, socks are now officially a gift to be excited about.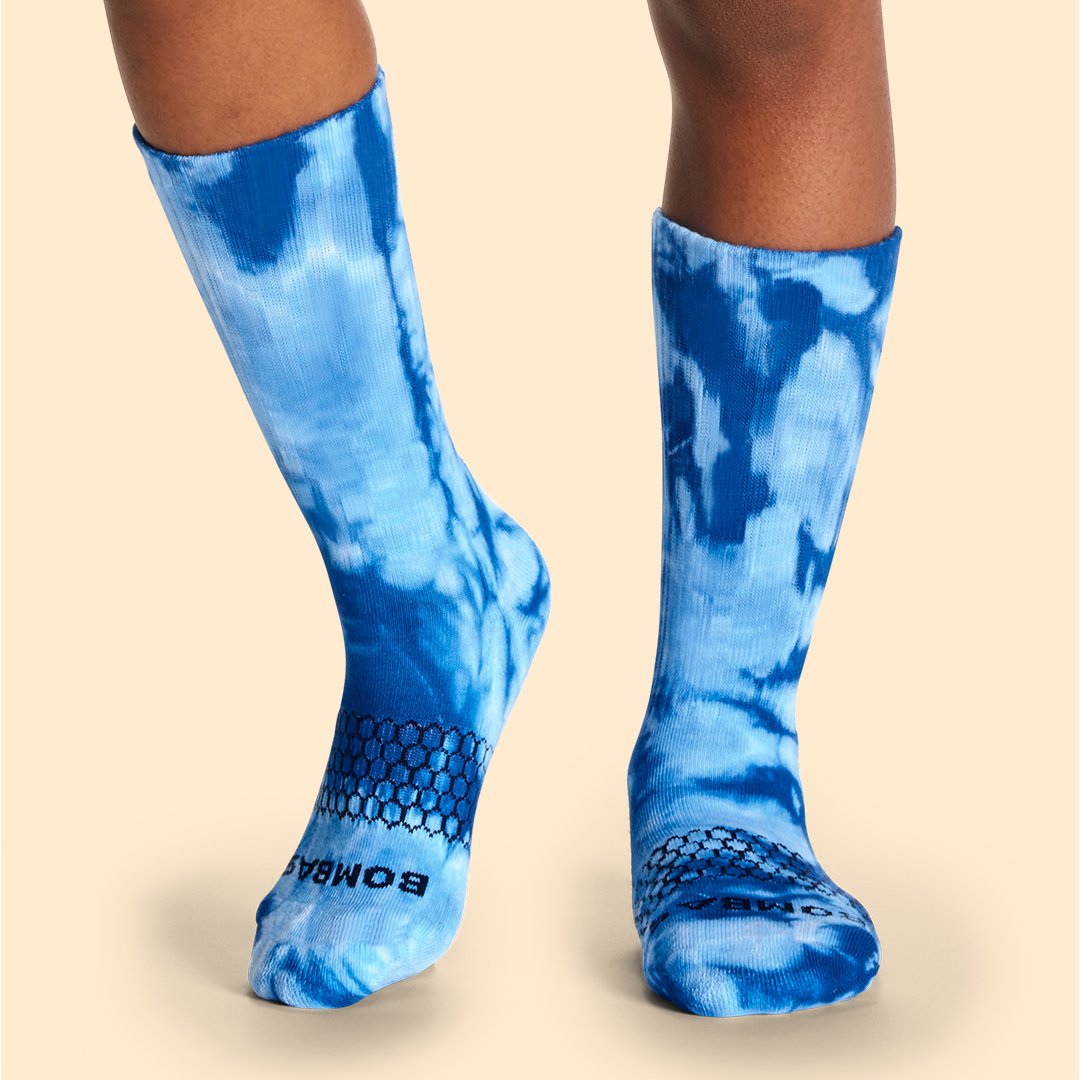 Our pick: Triple Decker Candle Co (From $14.99)
Nothing sets the mood and creates a cozy atmosphere like candles, and great smelling ones at that! Turn her home into a deliciously scented cozy escape with these Holiday scented candles available in a variety of nostalgic scents. They are non-toxic, and hand poured locally in Boston. 
Our pick: Lady Suite Probiotic Cleanser & Rejuvenating Oil (Starting at $16.00)
Our lady parts are sensitive and should have products of their own, which is just what Lady Suite set out to create. This wash helps to clean your lady parts with the perfect pH balance and gentle scent. This brand also makes a rejuvenating oil which helps to nourish your sensitive skin down there to give you that 'glow down below.'
Our pick: Oysterbag Petite ($69.00)
Looking for a gift for the babe who always has a new bag? This unique bag is sure to wow her and help her stand out. The coolest part? It's made from recycled oyster beds. This functional and versatile bag is great for running errands, hitting the gym or heading to lounge at the beach.
Our pick: MCMC x Mociun Perfume Oil ($55.00)
This clean perfume company creates scents that are sure to wow. We all know a lady in our life who always smells delish and loves a good perfume. Mociun is a one-of-a-kind scent that will transport her to the shores of Sicily with the scent of Italian neroli flower and citrus.
Our Pick: Phone Soap UV Phone Sanitizer
It wouldn't be a 2020 gift guide without having something that sanitizes. We wash our hands, clean our bodies and wipe household surfaces, but how often do you wash your phone? If you can't think of the last time you washed your phone, this is for you. Or the perfect gift for that someone on your list who's always looking for the latest and greatest...and cleanest products out there. Bonus: you can charge + sanitize at the same time.
So there you have it - gifts for every babe on your list. This holiday season, if you have the option to buy from a local, small business, then we urge you to!
Did we miss a must-have gift? Drop your favorite gift in the comments!
Leave a comment